Alicia Elliott's riveting and haunting A Mind Spread Out On The Ground has been billed as a collection of essays, as a mediation, as a commentary. It rose to the top of the non-fiction bestseller lists in Canada and stayed there, ultimately spending months in the top 10.
That wasn't what caught my interest. It was the way readers talked about the book on Twitter; many needed to ingest the words in small doses because of how personal the insights and experiences were to them.
From the moment the book arrived I knew it was special. We receive several books each week from publicists and authors, and buy books too, but they never come like this. (I bought my copy of this book.) The book was wrapped in paper in such a careful way, as though what was inside was fragile and could be broken beyond repair with careless handling. When I finally reached the book itself just touching it told me it was different; I'm not sure what materials have been used to make the cover, but the texture is beautiful. You want to hold it in your hands.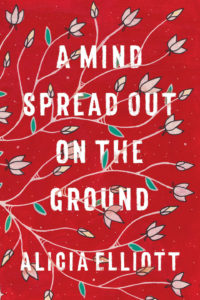 Then I started reading.
Alicia Elliott is Haudenosaunee. With a white Catholic mother and an Indigenous father, Alicia has spent her life dealing with the complexities of race, religion, oppression, perception. Her childhood was split between Canada and the U.S. because she has family from both countries.
Her personal experiences inform each essay. You might wonder what Elliott has to say to you. Why should you read this book?
It's about growing up with a mom with undiagnosed mental illness, and how the cycle of bipolar disorder wreaks havoc on children and adults alike.
It's about rape, and how a survivor processes the trauma, and the guilt.
It's about a so-called justice system that is anything but colorblind.
It's about colonialism, and how colonial actions have impacted Indigenous people in Canada.
It's about poverty, and how that poverty impacts children and families.
It's about objectifying women.
It's about pain and relationships and depression and finding out where you belong.
It's about … so many things.
Elliott writes candidly about keeping her secrets throughout much of her life and burying them away.

"If I had slowly unspooled my life for them, as they had for me, they would be prepared when something particularly difficult came up. They would already know the context. Now, if I wanted to talk to them about anything, I would have to explain everything — all the truth I'd tried so hard to keep from everyone. I had no idea how to go about that, so instead I just continued on as I always had: the girl without a family or past, who you could always rely on to keep all your secrets because she kept her own so well."

– Alicia Elliott, A Mind Spread Out On The Ground
And she talks about finally having them spill out of her through the written word.
"After all those years of forcing my past behind a dam, the pieces I was writing were like a flood. Readers weren't invited in so much as they were drowned, carried by the tide of my trauma to endings that felt like gasps for air."

– Alicia Elliott, A Mind Spread Out On The Ground
That is very much what the experience of reading this book is like. Whether you have personal experience that relates to everything Elliott explores or not, her transparency and her both witty and razor-sharp insights will cut through you. It's a disservice to self to read this book too fast, because there is so much in it to digest, to absorb. So often we talk about 'life-altering experiences' – reading this book can be that, but I think foremost it is a mind-altering experience. Be prepared to see the world differently; through the eyes of someone that has straddled the lines between countries, races and customs, someone who may never have danced in a powwow but can throw shade with the precision of an expert marksman.
My heart was cut open early, when Elliott started writing about her undiagnosed bipolar mother; I, too, grew up with a mom who wasn't diagnosed bipolar until I was 17. Here was someone writing about things I knew all too well; the phases of the cycle, hospitalizations, etc. I could relate, and I related again, when she wrote of blaming herself for being sexually assaulted, and again when she wrote of growing up poor. While my family ascended to middle class status by my teens, the lean years of my childhood are clear in my mind. Elliott showed me what might have been my life, had my family not been white.
And so, when Elliott tackles the experiences of Indigenous people, the way that colonial oppression has impacted Indigenous people, they way that Indigenous people are also at times reviled and objectified, I'm hearing all of this from someone I've come to trust; because Elliott's insights about the things I have experienced are so accurate, I know what she says about the experiences I have not shared is true.
You may think a book about a bipolar mom, rape, objectification, genocide, racism, poverty, could not possibly be beautiful, but it is. There is the beauty of the language, the beauty of not simply surviving but thriving, the beauty of a keen insight offered to a daughter from her father, the beauty of finding a new way forward to deal with trauma and pain in a healthier, more supportive, more empowering way.
I could quote endlessly from the book. There are powerful insights, there are truths that hit you with the force of a battering ram, there are pains that claw at your heart, the prose is superb.
What I offer might surprise those who've read the book. A bit of history.
"Toronto was once Tkaronto. This city ruled by bylaws was once ruled by treaty. It was Dish With One Spoon territory: a space that was shared by my people, the Haudenosaunee, the Mississaugas of the New Credit, the Anishinaabe, the Huron, the Wendat. This land was not supposed to have its plenty mined and discarded; it was supposed to be treated as one collective dish each nation had to share, hunting an equal but sustainable amount of game. All would eat from that dish together, using a beaver tail spoon instead of a knife to ensure there was no accidental bloodshed — which might lead to intentional bloodshed. In this way, it was a space of mutual peace and prosperity."

– Alicia Elliott, A Mind Spread Out On The Ground
To think we called them savages.
Perhaps allowing Elliott's words to filter through hearts and minds can begin to change perceptions and attitudes, and ultimately policies and actions. Perhaps an informed populace will step back from their own preconceived ideas, the falsehoods they've been spoonfed through school and the media, and see the world more clearly.
Perhaps enough will seek to do their part to pursue truth and reconciliation, and work towards the new foundation needed for "mutual peace and prosperity."
And perhaps, for some, there will be that moment of relief, of knowing that someone truly understands the darkest, deepest hurts you carry.
Buy it. Read it. Absorb it. And then buy a copy for a friend.